This kit will allow you to coat and sublimate cotton fabric and hard substrates.
The kit includes:
8 oz. Poly-T concentrate to make 64 oz. of sublimation spray for cotton & cotton-blends
4 oz. Desizer concentrate to make 32 oz. of textile desizing spray
2 - 8 oz. fine mist spray bottles
16 oz. PolyGloss to coat wood, ceramic, metal, glass, etc.
1 oz. Catalyst for PolyGloss
Syringe, stir sticks, measuring cups
Poly-T Sublimation Coating for Cotton and Cotton-Blends
Video #1
Video #2
Video #3
Dyepress Poly-T will allow you to sublimate 100% cotton as long as you apply a 2nd coat of Poly-T over the sublimated image (see details below). You will lose about 10% of the vibrancy after the first wash when coating 100% cotton. For more vibrant images long term, use 40%+ polyester fabric.
Coverage: 8 oz. of Concentrate - Makes 1/2 gallon (64 oz.) of Poly Spray (will coat 160 t-shirts with a 10" X 12" print area)
~All DyePress sublimation coatings are manufactured in Scottsdale, Arizona~
We strongly recommend using a thin silicone mat under your shirt to raise your image area higher than the rest of the shirt to #1 keep any thick seams of the shirt out of the way AND #2 to reduce the amount of Desizer you need to apply. You will see in the instructions below, that you need to apply the Desizer everywhere the heat will press against the shirt, otherwise the sizing will burn wherever the heat hits the sizing that remains. Do NOT use the silicone mat when Desizing the shirt, ONLY when sublimating.
Instructions: Most white and heather grey shirts are coated in "chemical sizing" to maintain a smooth finish during manufacturing. This "sizing" burns and blocks the Dyepress from soaking in. If you do not remove the sizing, your image will wash out. Sweatshirts of all colors have sizing added to avoid pilling. Colored t-shirts don't have sizing since it was removed to dye the fabric. Shirts labeled PFD (prepared for dying) do not have sizing, since the manufacturer removed the sizing for customers who plan to dye the shirts. Here's an article from Dupont about textile desizing for more information. We recommend practicing on shirts from Hobby Lobby, since these shirts have only a light amount of sizing.
1. Desizer: If the shirt is white or heather grey, or is a sweatshirt, remove the "chemical sizing" with Desizer BEFORE applying the Dyepress Poly-T.
Mix 1 oz. Desizer + 7 oz. water in a fine mist spray bottle.
The Desizer is steam activated. Spray Desizer wherever heat press will touch the shirt. Cover wet shirt with thin cotton fabric, shirt, or flour sack towel and press at 385°F until a heavy amount of steam rolls out from under the press, continue until you no longer see steam (about 30 to 40 seconds depending on cotton cover thickness).
2. Poly-T: Mix 1 oz. (2 Tbs.) Poly-T + 7 oz. purified water in a fine mist spray bottle.
3. Spray Poly-T on image area until damp. Press Poly-T into fibers.
For the most vibrant images, dry the shirt under the heat of the open heat press (takes only a few minutes). Be sure the Poly-T is completely dry before you sublimate.
Do not use tacky spray, it will block the ink transfer.
4. Once dry, Sublimate with FIRM PRESSURE for 70 seconds at 385F. Use 2 sheets of butcher paper.
OPTIONAL TOPCOAT
To avoid ink bleed with the topcoat of Poly-T, select "plain" paper print setting. Presentation matte setting puts too much ink on the paper and this extra ink sits on the surface and bleeds with the topcoat.
5. Spray a LIGHT MIST of Poly-T over sublimated image. Dry under the heat of the OPEN press, with hair dryer or heat gun. If air-drying, press at 300°F for 10 seconds to set the ink. DO NOT press any hotter than 300F or you will re-start the sublimation process, causing ink loss!
Clogged Spray Bottle: Spray water or alcohol through spray bottle to keep sprayer from clogging.
To give you an example of how Dyepress Poly-T works, we sprayed one-half of a 50/50 shirt and then let it air-dry. The second photo shows how the shirt looked after two cycles in the washing machine and dryer using hot temperature settings.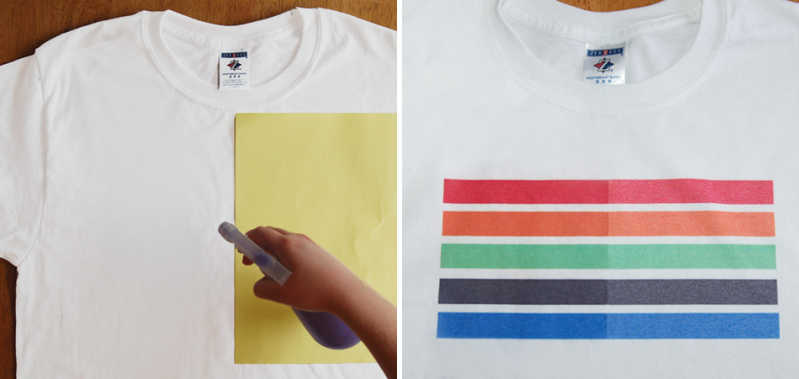 PolyGloss is a 2-part, high-gloss, water-based, sublimation coating for hard surfaces.
16 oz. will coat approx. 65 sq. ft. or 240 mugs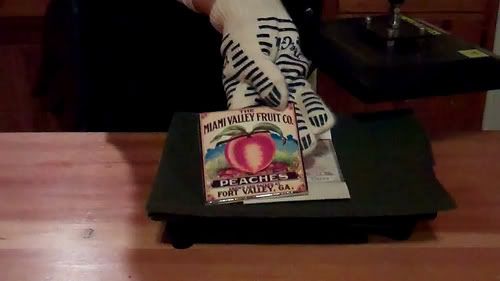 PolyGloss will provide a high-gloss (wet-look), sublimatable coating for the following surfaces:
Metal - Stainless Steel Mugs, Aluminum Signs, License Plates, Zippo Lighters, Clipboards, Dog Tags, Key chains, Nameplates, Aluminum Water Bottles, Fridge Magnets, Christmas Ornaments

Polished Marble & Stone

FRP (fiberglass reinforced plastic)

Hardboard (aka Masonite, Thrifty White Board) Available at Home Depot in 4' X 8' sheets with "white-board" finish. Home Depot will cut down the large sheet into more manageable pieces free of charge. Smaller pieces can then be cut with a standard jigsaw.

Ceramic Mugs & Tile

Glass

Wood
PolyGloss is a 2-part, polyester resin that can be applied with common household tools. It cleans up easy with water and does not emit toxic fumes. The catalyst is added at a ratio of 1 ml for every ounce of PolyGloss. The PolyGloss mixture has a potlife of 18 hours. Unlike most 2-part resins, the mixture can be re-catalyzed after the potlife has expired by adding additional catalyst at the same 1 ml per ounce ratio. Catalyst and measuring syringe are included in package. We do not recommend using the dishwasher with PolyGloss coated substrates, since some dishwashers reach very high temperatures and this can re-activate the sublimation process causing the ink to bleed.
Directions:
Step 1: Add 1 ml of catalyst per ounce of Poly. Stir thoroughly.

Step 2: Wipe down non-porous substrates (ceramic, glass, white-board, marble, etc.) with rubbing alcohol. Clean metal with a solvent like Xylol to remove manufacturing grease.
Step 3: Application
Brush application: Once the alcohol or Xylol has evaporated, apply one thin coat of PolyGloss mixture (if the PolyGloss is too thick, your paper will stick and your image will look "mushy"). If you need to add a 2nd coat, cure each layer of coating to be sure the coating is not too soft. Apply the PolyGloss in an environment with a minimum temperature of 60 degrees and a minimum humidity of 30%. The PolyGloss needs humidity to give the bubbles time to pop before the coating starts to dry. Slow drying is better than fast drying. If your bubbles don't pop completely, cure the dried substrate in the press with light to medium pressure to flatten the bubbles (see cure details below). Once you've sublimated the substrate you can apply a topcoat to "hide" the flattened bubbles. Use a humidifier to increase the humidity in your workspace in the future to avoid hardened bubbles.
Gravity-feed sprayer: Mixture can be thinned with 10% water for use with gravity-feed sprayer. Set air compressor for between 25 and 35 PSI. Apply enough PolyGloss mixture to allow the coating to flow together smoothly. The coating will look dull and textured if you do not apply enough coating. Clean sprayer and brush with water (do not use soaps or solvents).
WARNING: Wear face mask & eye protection if using a sprayer
Step 4: Once dry (2 to 3 hours), cure substrate in oven at 340F for 22 minutes OR convection oven at 300F for 22 minutes. Cure wood in oven at 340F for 15 minutes or 12 minutes on the press with parchment paper and silicone pad for protection using light pressure. Cure metal in oven at 320F for 10 minutes or on press for 3 minutes with silicone pad and parchment paper. If coating burns or bubbles reduce temp by 10 degrees.
Step 5: Sublimation times will vary by substrate and method. Whenever possible, press substrates face-down over foam (Vapor) or felt (Nomex) pad to get full contact with paper.
Here are a few examples: Press 4" ceramic tiles either face-up with a silicone mat for 4 minutes OR face-down over foam/felt pad at 400F for 10 minutes. Press wood face-up with silicone pad over paper for 2 minutes at 400F with medium pressure. Press metal for 60 seconds at 360F (turn temperature down if coating begins to bubble).
UV Protection: We recommend applying a topcoat of UV protection like Rust-Oleum Crystal Clear Enamel Spray Paint (available at Home Depot and Lowes for $3.76) to ensure long-term color protection.
Instructions for using PolyGloss with white paint to coat wood:
1. Mix 1 part (5 ml) PolyGloss with 5 parts (25 ml) white paint (white primer has worked the best with our tests)
2. Add 1ml catalyst per ounce (30 ml) of PolyPaint mixture from step one
3. Apply PolyPaint mixture to raw, unfinished wood with synthetic brush, roller, or sprayer
4. Allow to dry (approx. 1 hour)
5. Add 1ml catalyst per ounce of PolyGloss - stir thoroughly
6. Apply 1st layer of PolyGloss (with catalyst)
7. Allow to dry (1 to 2 hours)
8. Apply 2nd/final layer of PolyGloss (with catalyst)
9. Allow to dry (1 to 2 hours)
10. Cure on heat press with parchment paper (regular paper will stick) and silicone pad using light pressure at 340F for 12 minutes
11. Sublimate with butcher paper and silicone pad with medium pressure at 400F for 3 minutes (4 minutes for larger pieces of wood)
12. Apply water-based topcoat in desired sheen (matte, satin, semi-gloss, gloss)
Instructions for Coating the Backside of Glass:
1. Apply 2 thin coats of PolyGloss with catalyst to the back of the glass (allow to dry between coats).
2. Once dry, cure the coated glass at 340F for 22 minutes.
3. Once cool, sublimate your image face down over padding for 6 minutes at 400F (you may need to increase the time if the glass is more than 1/4 inch thick).
4. Once cool, spray a light coating of translucent white (i.e. Krylon Frosted Glass) over the image. Flip the glass over to see if your image is vibrant enough, if not apply a second coat of translucent white.
5. Once dry apply a topcoat of Rustoleum clear enamel (see picture above) to protect the white layer from scratches.
Coated substrates have no expiration date. In other words, you can coat a mug today, cure it next month and sublimate it next year.
If you are interested in ordering larger quantities, we offer the following discounted prices:
5+ gallons = $130 per gallon
Trouble Shooting Guide
If you are having a hard time getting the PolyGloss to coat metal evenly and you are having problems like "orange-peel" or "fish-eye," then your substrate needs to be "cleaned" with rubbing alcohol or a solvent like Xylol (aka Xylene) to remove the oil or wax residue left on the substrate during the manufacturing process. Xylol is readily available in the paint department at most hardware stores.
International Buyers Please Note:
Import duties, taxes, and charges are not included in the item price or shipping cost. These charges are the buyer's responsibility. Please check with your country's customs office to determine what these additional costs will be prior to bidding or buying.