Poly

White is not currently available for purchase. Watch this YouTube video to see how you can use PolyGloss with white paint:


Poly

White

is a water-based primer designed to be used in conjunction with PolyGloss.
Directions for use with PolyGloss


PolyWhite & PolyGloss together will create a glossy, white, opaque, sublimatable surface on metal, ceramic, glass, marble, stone, and wood.

Directions:

Step 1:Shake bottle of PolyWhite. Add 1 ml of catalyst per ounce of PolyWhite. Stir thoroughly. Mixture can be thinned with up to 10% water. Mixture has an 18-hour pot-life, but can be re-catalyzed by adding 1 ml of catalyst to each ounce of remaining mixture.
Step 2: Clean surface with water. If you get "fish-eye" (see photo), you will need to use a strong solvent like Xylol to remove oily residue left behind from the manufacturing process.
Step 3: Apply 1 to 2 thin coats (allow coating to dry between coats) of PolyWhite mixture with brush or low pressure gravity-feed sprayer.
Step 4: Once coating is dry, cure substrate at 300F in oven for 10 minutes or on the press for 4 minutes. If coating burns, lower temp 10 degrees.
Step 5: Once cool, Apply one thin coat of PolyGloss (without catalyst) with brush or gravity-feed sprayer. If the PolyGloss will not lay out smoothly, lightly sand the PolyWhite layer for better adhesion. [If you apply 2 coats, cure between coats or coating will be too soft.] If bubbles do not pop on their own, dip your brush in water and go back over wet coating to help bubbles pop. If you are struggling with brush strokes, add ½ tsp. of water per oz. of PolyGloss. We don't recommend foam brushes as they create more bubbles. Once dry, cure substrate at 315F in oven for 22 minutes or on press for 15 minutes (cure metal for 4 minutes on press).
Step 6: Dwell times will vary by substrate and method. When possible, press substrates face-down over pad to get full contact with paper. Press tiles face down at 375F for 9 minutes. Press wood face-up with silicone pad over paper for 3 minutes at 375F. Press metal face-down for 45 seconds at 360F (turn temp down if coating bubbles).
UV Protection: When creating outdoor art, spray on a UV-Resistant Clear Acrylic Coating over your sublimated image after you substrate has cooled. We use Krylon UV-Resistant aerosol spray available at craft and hardware stores.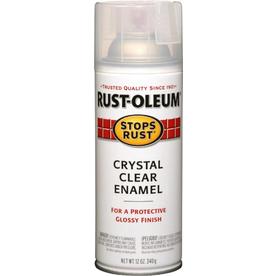 Instructions for coating the backside of glass:
1. Apply the PolyGloss with catalyst to the back of the glass.
2. Once dry, cure the coated glass at 340F for 22 minutes.
3. Once cool, sublimate your image face down over padding for 6 minutes at 400F (you may need to increase the time if the glass is more than 1/4 inch thick).
4. Once cool, spray a light coating of translucent white (i.e. Krylon Frosted Glass) over the image. Flip the glass over to see if your image is vibrant enough, if not apply a second coat of translucent white.
5. Once dry apply a topcoat of Rustoleum clear enamel (see picture above) to protect the white layer from scratches.
Coated substrates have no expiration date. In other words, you can coat a tile today and wait 'til next year to sublimate the image.
Sublimated substrates are microwave and dishwasher safe.
WARNING:

Wear face mask & eye protection if using a sprayer
*We have had a lot of inquiries lately regarding sublimating unfinished MDF. MDF is not a good sublimatable surface. When heated, the pigment in the MDF migrates over the white causing the white to look yellow or brown, depending upon the color of the MDF. It also absorbs moisture and easily looses it's smooth finish.White-board MDF, on the other hand, is a great substrate for sublimating. These "thrifty-white panels" are available at Home Depot for about $12 per 4 X 8 foot sheet. These panels have a hard, bright white layer over the MDF and sublimate easily with PolyGloss (without the need for the PolyWhite base).
~All DyePress sublimation coatings are manufactured in Scottsdale, Arizona~
International Buyers – Please Note:




Import duties, taxes, and charges are not included in the item price or shipping cost. These charges are the buyer's responsibility. Please check with your country's customs office to determine what these additional costs will be prior to bidding or buying.